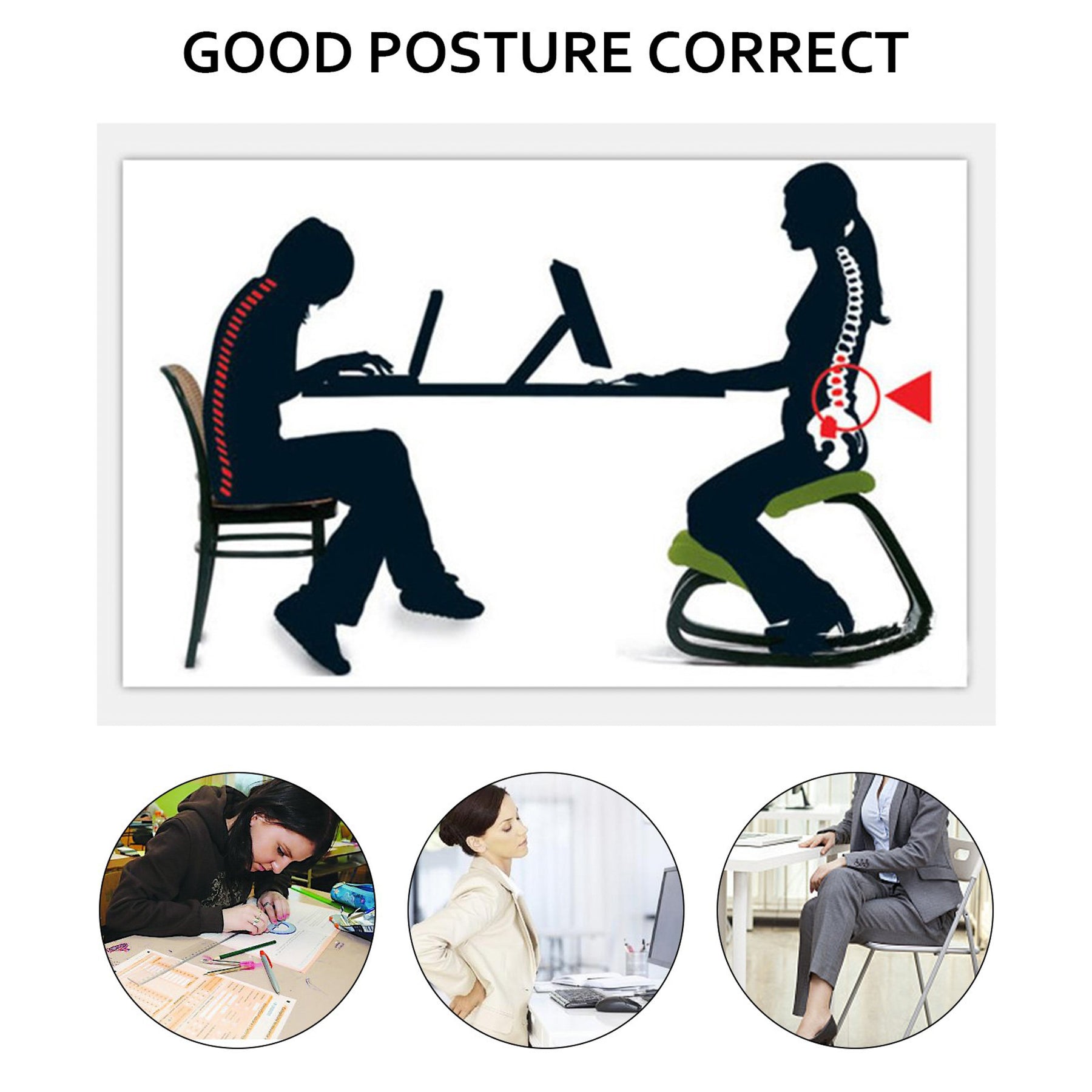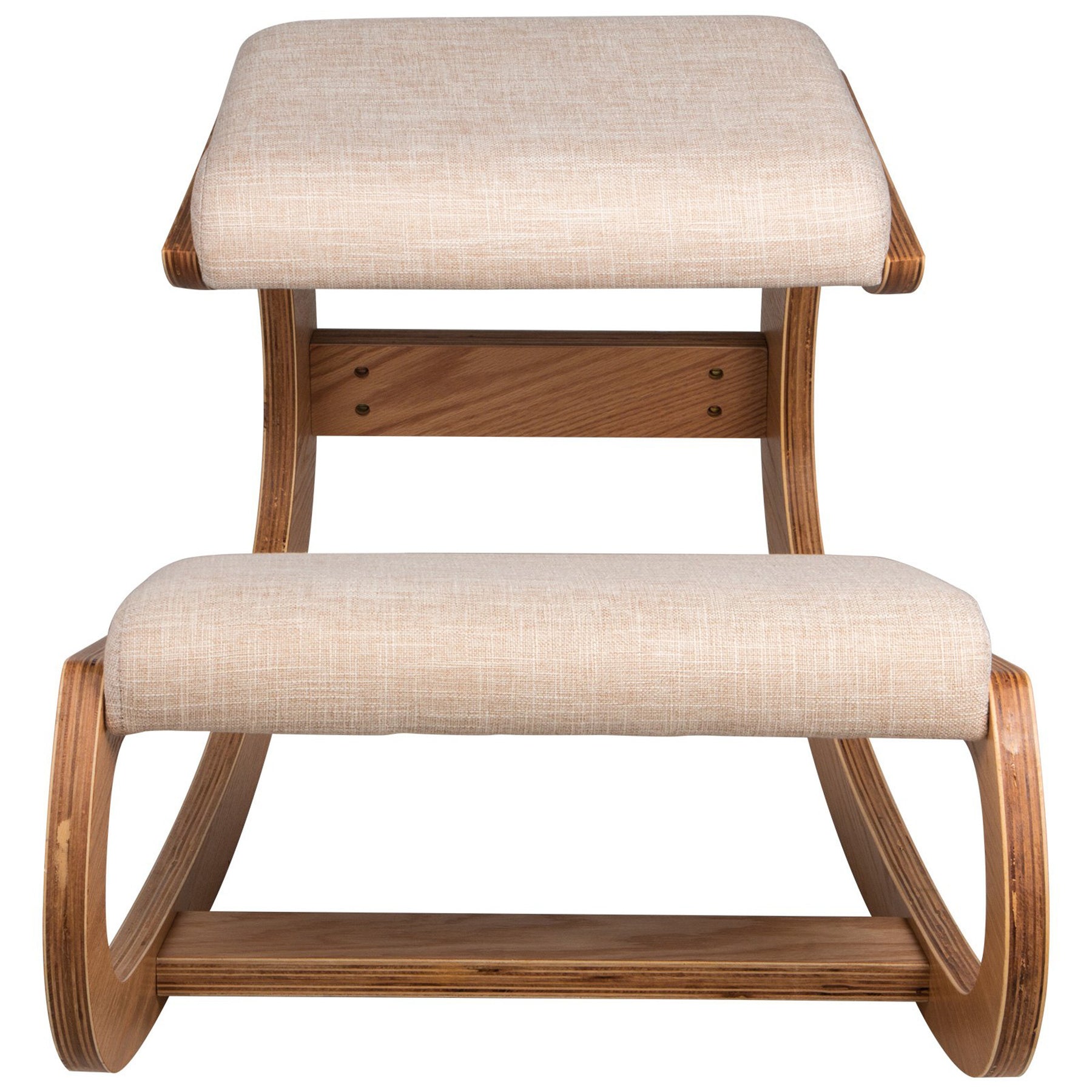 Ergonomic Kneeling Chair | Home Office Chair for Better Posture
FAST AND FREE WITH RISK FREE 30 DAYS RETURN
3 YEARS MANUFACTURY WARRANTY
HANDMADE IN CALIFORNIA
Free Delivery
Ergonomic Kneeling Chair
This is a premium ergonomic kneeling chair using natural birch wood and bentwood craft. It can help to correct posture, prevent kyphosis, and build a beautiful body shape. With a maximum 220 lbs load capacity, it is suitable for any person. With this stool, you will focus more on work and feel less fatigue & and pain after a long time of work.
∙Excellent Kneeling Chair
∙Good Posture Correction
∙Heavy Duty Load Capacity
∙High Stability & Comfortable
Pain Relief:
∙Work to keep your back at an upright position, and distribute your weight evenly into your legs and hips. Promote a natural posture, help to strengthen abdominal and back muscles, and increase blood flow.
Balanced Rocking Stool:
∙Bottom arc shape, rocking stool with slide-resistant design. The rocking motion keeps your core active and helps you maintain focus for long periods of time.
Diverse Application Occasion:
∙Reduce pressure on the spinal, lumbar spine, and shin vertebral when sitting, and reduce discomfort. Multi-Use: can be used as a desk chair, meditation chair, computer chair, etc.
Shipping information
Answers to all your shipping questions can be found in the information below. Don't hesitate to contact our Customer Service team if you still have questions.
General shipping info:
Most of our in-stock items ship in 1-5 business days.
Once your order ships, you will receive tracking information at the email address associated with your order.
Shipping is free to the contiguous 48 United States.
Our ground shipments do not require a signature for delivery.
For orders to Alaska, Hawaii and Canada, your shipping costs will be calculated at checkout.
Please contact Modern Wood Style with all order and shipping concerns. We're happy to contact the shipping company on your behalf, if necessary!
Canadian shipping:
Shipping cost on Canadian orders will be calculated at checkout. Once again, when your order ships, you will receive tracking information at the email address associated with your order.
International shipping:
Unfortunately at this time Modern Wood Style do not support International shipping. But we will work on it, to provide such service in the future.
Freight shipments:
Some of our larger, heavier items do ship via freight carrier in the wooden crate. This is not a big deal, Don't Worry. But some extra steps are required:
Freight deliveries differ from ground deliveries:
You must schedule your freight delivery directly with the delivery company as soon as your shipment leaves the warehouse, we will send you your tracking information, and information for scheduling your delivery with the freight company.An adult must be present to inspect and sign for your freight delivery. You must note any shortage or damage on the driver's paperwork at the time you sign for the shipment.Unless a loading dock is available, freight deliveries are curbside, i.e. the delivery driver will take the boxes off the truck but the recipient is responsible for bringing the boxes inside.
It is the responsibility of the client to verify the shipping address and all contact information. This is especially important for freight shipments. Additionally, it is the end-user's responsibility to coordinate delivery with the freight carrier. Failure to coordinate delivery may result in storage and additional unfortunate fees at the end-user's expense.
After you place an order, we'll send you a confirmation email with your order details and the estimated delivery date.We accept Checks, Credit Cards, and Paypal.
We are committed to securing the private information you share with us.
We guarantee each purchase you make with us is protected and safe.
We will never share or sell any of your personal information, including your email address.
Blake - 05/05/22
Just got a new live edge conference table for our new conference room, and it is BEAUTIFUL! It's really a wonderful product, and we're so excited to have people at it! Mike was great to work with and had (more than) excellent customer service every step of the way. Really made this process fantastic!
Jorge Figueroa - 10/05/22
Almost perfect, however there was a small dent on one of the corners of the metal pieces I recieved. No biggie though, I was able to pry it open with a tool. Other than that I am extremely satisfied with this product.
jordan - 29/04/22
This desk is so well made and the live edge top is awesome. The desk functions perfectly. We purchased the gromet and the drawer too. Thank you!!
susan - 31/03/22
I have a small entryway and this table fit perfectly in the space! love the color and it was very easy to install. it was securely packaged, but there was minor cosmetic damage on the legs — the rubber tips that came with it cover that up. very happy with my purchase!
nirusso - 22/03/22
Everything was perfect. From delivery to instructions to the quality. The desk is gorgeous and it's made working from home infinitely better. One small tip for installation is that when you're putting the legs on the base and lining up the holes, you may want to break off some cardboard from the box to slide it in under so they're flush.
annfk1 - 14/03/22
I BOUGHT THIS TABLE FOR MY FOYER. PERFECT FIT AND QUALITY CONSTRUCTION. GREAT PURCHASE.
David - 07/03/22
Really like my desk. Packaging was great & easy to assemble. Mike was very helpful and responsive. Been using the desk for a couple weeks now and am very pleased. Its easy to use and looks great!
Dillion - 07/02/22
Customer service was excellent. Desk is amazing and just as expected, is my first standing desk as well. Other than a minor shipping delay, everything went smoothly and I could not be happier!
Diane - 18/02/22
I am so happy with my desk, it's absolutely gorgeous! I'm loving the powered sit stand option. Working with Mike was a delight, he reached out to clarify some options for the desk and was clear and helpful in making the right decision for me. The desk arrived quickly in two separate shipments. Both were very well packaged. The assembly went pretty smoothly, it took me about an hour to do by myself and most of that time was figuring out the directions. I would definitely recommend Mike's work… my desk it way better than anything else I looked at and was a great price!
Lizzi - 12/02/22
Well packed item and arrived on time. Met my expectations, will definitely order from this store again….thanku for a beautiful piece of furniture 😊